Farmers to Families Food Box Butter Purchases Update –…
The USDA recently announced a fifth round of purchases for the Farmers to Families Food Box Program, authorizing an additional $1.5 billion in purchases.
Within the fourth round of the program, boxes were required to include one gallon of fluid milk in addition to a combined five to six pounds of "Group A" cheese varieties and "Group B" dairy products including butter, cream cheese, sour cream, cottage cheese and yogurt.
At least one pound of "Group A" and "Group B" products must be purchased within each food box. Within the newly announced fifth round of purchases, the USDA is expected to have similar requirements in terms of dairy product allocation, with the exception of additional cheese varieties being accepted within "Group A".
A recently published paper outlines how butter purchases within the program are not incentivized due to the disproportionately low moisture content in butter relative to other "Group B" dairy products.
The chart below illustrates the negative correlation between "Group B" dairy product moisture content and recent retail prices.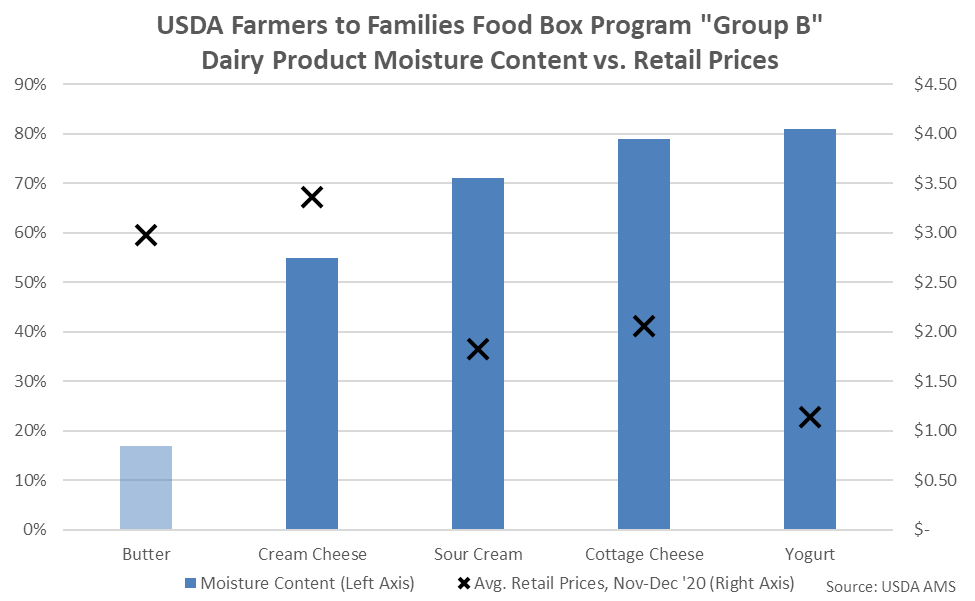 The full paper can be found within the following link:
http://www.milkproducerscouncil.org/wp-content/uploads/2021-01-06-Food-Box-Program-Background.pdf