Chinese Corn Futures Update – Oct '20
Chinese corn futures have reached record high levels over recent days as crop damage from recently experienced typhoons is expected to accelerate recent declines in stockpiles.
The most actively traded corn futures on the Dalian Commodity Exchange settled at over 2,600 yuan/metric ton on Oct 30
th
, the equivalent of $9.88/bu on a U.S. dollar basis.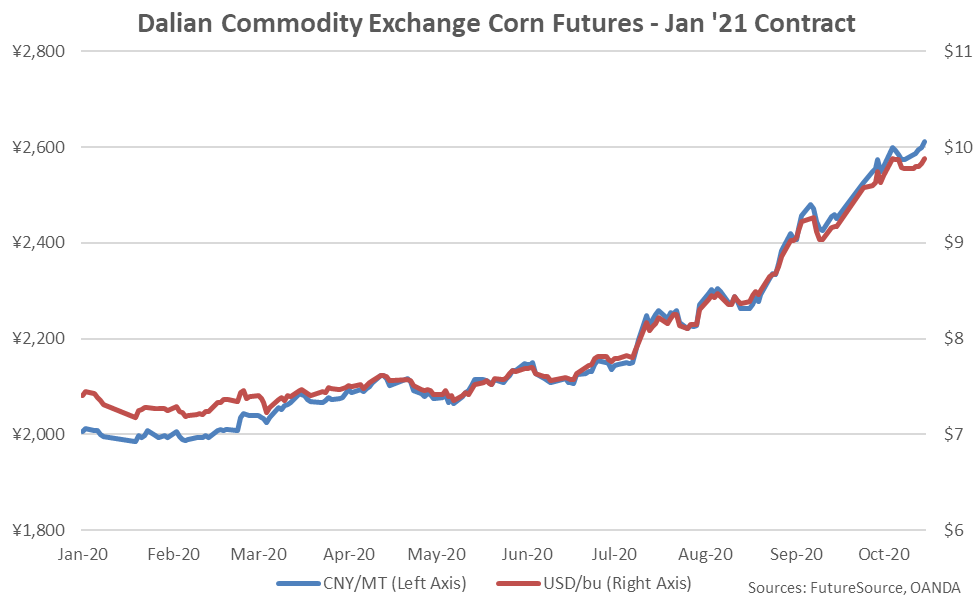 Nearby contract corn futures on the Dalian Commodity Exchange reached a six year high level over recent days and a five year high level on a U.S. dollar basis when accounting for exchange rate fluctuations.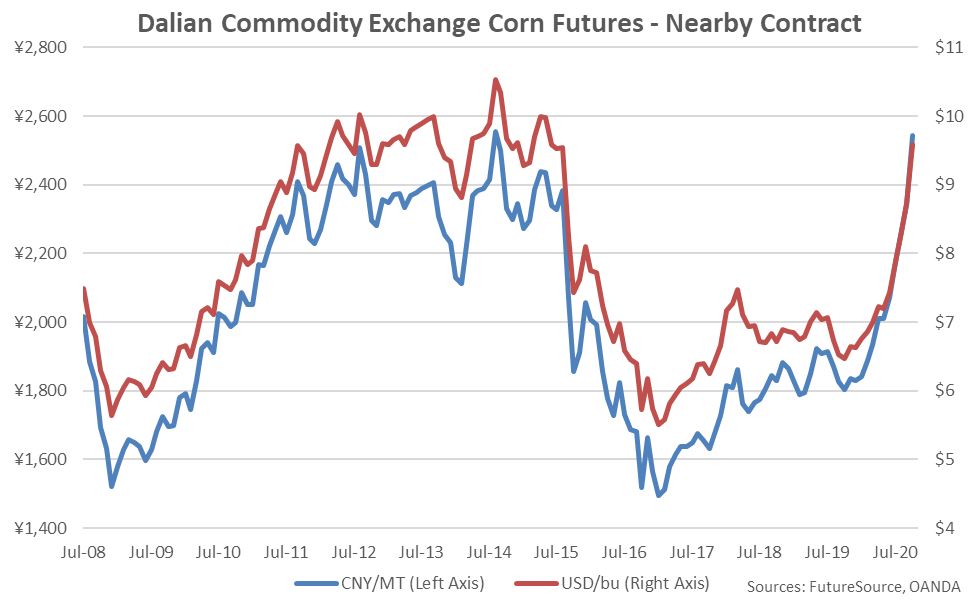 Flat to lower corn production amid continued domestic usage is expected to deplete reserves according to the USDA. The USDA is projecting Chinese corn ending stocks will decline to a six year low level throughout the '20-'21 production season, down over 13% from the record high level experienced four years ago.
The '20-'21 projected YOY decline in Chinese corn stocks would be the largest experienced throughout the past 20 years on an absolute basis.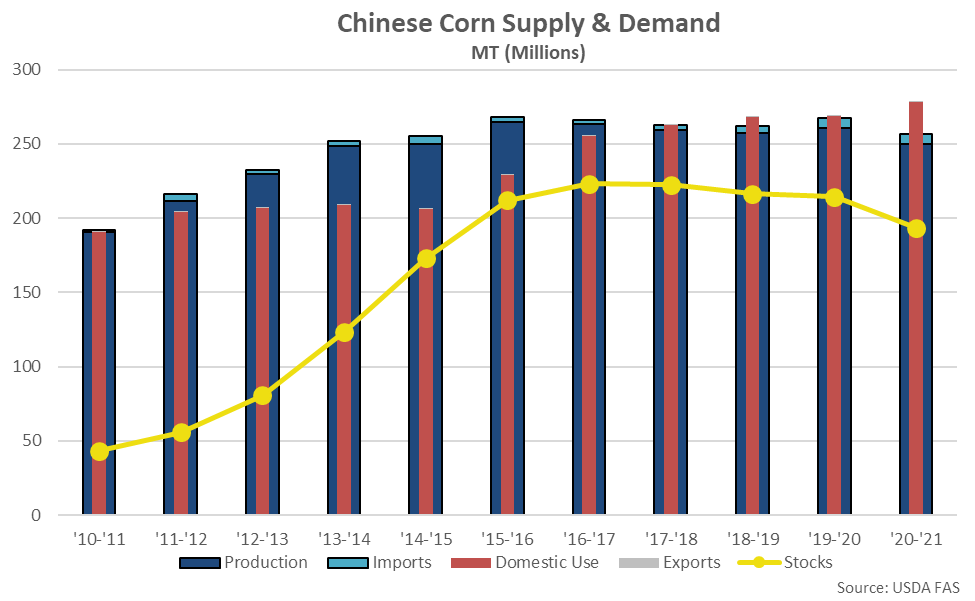 U.S. corn exports destined to China are on pace to reach a seven year high level throughout 2020, exceeding the total combined volumes shipped to China over the past five years.
2020 projected figures are based on the YOY change in monthly export figures experienced through August.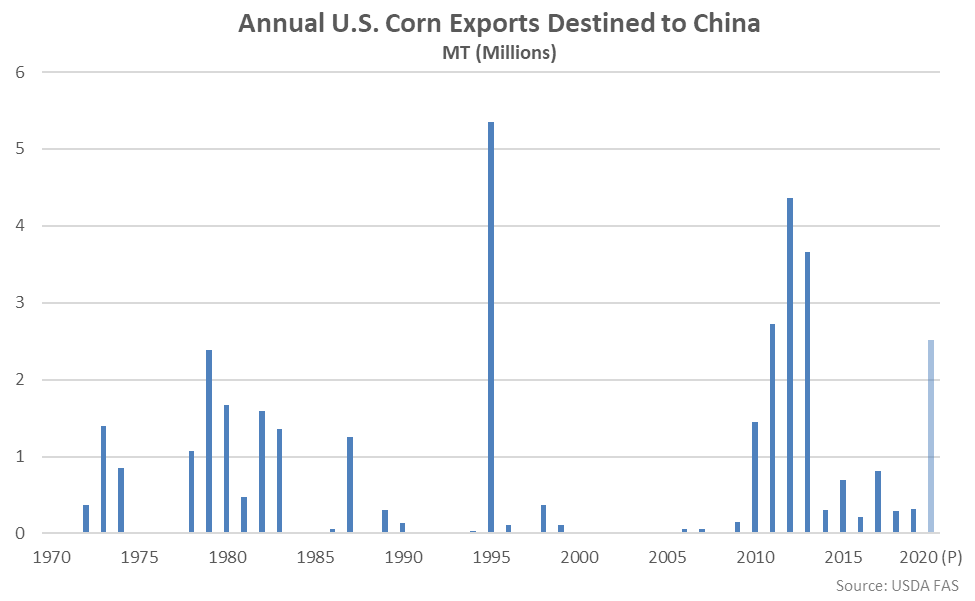 Current Chinese corn commitments (accumulated exports + outstanding sales) from the U.S. have accelerated significantly over recent months, reaching a record high level of over 10.5 million metric tons.
Current commitments through mid-October include 1.9 million metric tons of accumulated exports and 8.7 million metric tons of outstanding sales.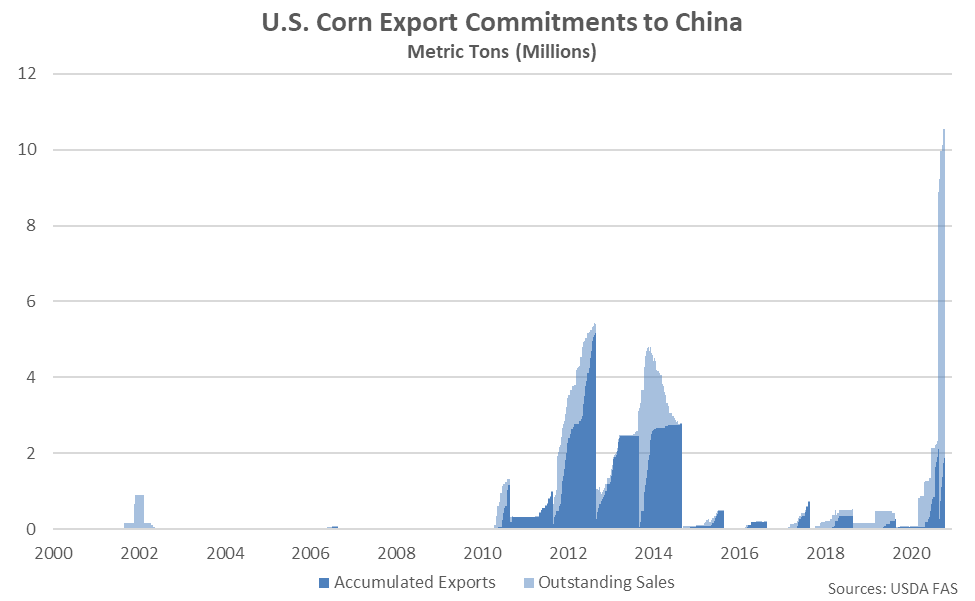 China has a 2020 reduced tariff rate quota volume of 7.2 million metric tons of corn. In-quota duties amount to just one percent, compared to a 65% tariff on out-of-quota volumes.
There is speculation China will increase its reduced tariff rate quota for corn to accommodate additional import volumes going forward.